Product Description
vacuum shelf oven Advantages
Hywell machinery FZG series vacuum shelf oven had the following advantages over conventional solutions.
1. Predictable and Repeatable Results.
2. Dry Temperature Sensitive Products of square vacuum drier - Because all liquids vaporize at lower temperature at reduced pressures, it is possible to vaporize the liquids at very low temperatures.
3. Round vacuum drier reduced Energy – Since the evaporation of the liquid under vacuum occurs at a much reduce temperature, the temperature differential is increased without raising the temperature.
4. Single Enclosed Environment – Active pharmaceutical ingredients, drugs and toxic chemicals are easily isolated in a vacuum dryer. The closed system also assures the maximum collection of solvents is achieved, protecting operators and the environment.
5. Avoid Oxidation – Vacuum Tray Dryer is ideal for avoiding oxidation of chemical and with the addition of an inert gas purge, an oxygen free environment can be maintained.
6.The heat source for evaporation may be low pressure steam or surplus heat steam. but the tray model vacuum dryer also can use hot water or thermal oil to as heat source. If client have not heat source. we can design and supply the electrical heating thermal oil or hot water to supply heat source for the Fzg Vacuum Drying Machine.
7. It belongs to static dryer. The materials load inside the tray ,So the shape of raw material to be dried should not be destroyed.
8. Highly polished inner and outer surfaces of the static vacuum drier, no dead comer, easy to clear, no cross contamination. Confining to the requirement of GMP.
Principle
Vacuum Drying uses vacuum pump to pump damp air out and make the working chamber form vacuum status. and let the raw material to be dried at vacuum condition ,Therefore, the drying speed of raw material is improved and the energy is saved greatly. Because the raw materials load inside the tray (standard tray size :640x460x45mm), so It is static vacuum dryer, the form and structure of material can't be damaged when be dried.
Notes: If the material contains a large amount of solvents such as methanol, ethanol, etc. The solvent of raw material can be collected by using a condenser. But the condenser to recollected the solvent that need user to supply cooling water , If the solvent is water or low proportion of solvents , the condenser is not required in order to save investment cost.
In vacuum drying, the dry materials are placed in vacuum to be heated for drying, and the vacuum pump extracts air and dehumidifies to make the work chamber in a vacuum state, in the meanwhile, the moisture volatilized from the materials is extracted by the vacuum pump, to significantly expedite drying rate of materials and save energy. The condenser (if adopted) can recover the solvent in the materials. The equipment is applicable to cold drying of heat-sensitive materials that are prone to decompose, polymerize or deteriorate at high temperature, and is extensively used in such industries as pharmacy,
vacuum shelf drier options
1. Construction Material & Sanitary Finishes:
We are able to offer our square vacuum dryer with contact part to be built in Carbon steel, SS304, SS316/316L, Titanium, Duplex stainless steel, etc. Standard of internal and external finish can be adopted to the customer's needs.
2. Heating & Cooling Jackets:
square vacuum shelf dryer are available with jackets for heating / cooling operation.
3. Custom Engineered Dimensions:
Dimensions of our tray model vacuum dryer can be defined according to customer's requirements.
4. Vacuum Drying Equipment Sizes:
Vacuum shelf Drying Machine that can load tray from 10 to 120. total volume with bigger size as per request &. more.
5.For the electrical component , it can use international brand such as ABB ,Siemens or Schneider.
Tray vacuum drier Application:
Tray vacuum drier is suitable for drying heat sensitive raw materials that can decompose or polymerize or deteriorate at high temperature. It is widely used in pharmaceutical, chemical, foodstuff and electronic industries. Particularly it is suitable for row materials that have the follow requirements:
1.Themal sensitive raw materials that cannot be dried at high temperature.
2.Raw materials that is easy to oxidize and dangerous.
3.Raw materials that solvent and toxic gases are needed to recover.
4.Raw materials that have special requirement for crystal shape.
5. Raw materials that have special requirement for the content of residual colatile.
Main Technical Parameter:
| | | | | |
| --- | --- | --- | --- | --- |
| Model | YZG-600 | YZG-1000 | YZG-1400 | FZG-15 |
| Weight of drying chamer(kg) | 350 | 800 | 1400 | 2100 |
| Layers of baking shelf | 4 | 6 | 8 | 8 |
| Dimensions of baking tray(mm) | 310x600x45 | 460x640x45 | 460x640x45 | 460x640x45 |
| Number of baking tray | 4 | 12 | 32 | 32 |
| Temp inside chamber(ºC) | ≤ 150 | ≤ 150 | ≤ 150 | ≤ 150 |
| Vacuum at idle inside chamber(Mpa) | ≥0.092 | ≥0.092 | ≥0.092 | ≥0.092 |
| Type and power of vacuum pump if condersateor used | 2X-15A 2KW | W3 5.5KW | W3 5.5KW | 2X-70A 5.5KW |
| Tyoe and power of vacuum pump if no condersator used | SK-0.8 2.2KW | SK-3 7.5KW | SK-3 7.5KW | SK-3 7.5KW |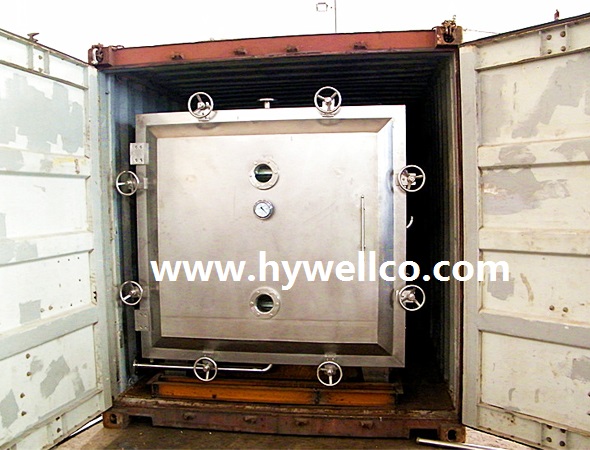 Changzhou Hywell Machinery Co,.Ltd
About Us
Hywell Machinery is a market leader in one stop smart pharmaceutical production solution experts and your premier one stop solution pharmaceutical equipment manufacturer. Hywell Machinery main products include High Shear Granulator, Fluid Bed Dryer, Fluid Bed Processor, Fluid Bed Granulator, Vacuum Conveying, Bin Blender, 3D Mixer, Vacuum Dryer and so on.
Hywell Machinery custom design your project according to your process and layout requirements. As process equipment, we resolved a lot of process problems for clients during 20 years.
Hywell Machinery realized the application is key important, that is why we focus on integrating process and machinery, resolve your process problems.
Expertise from lab to production processes defined by your product. Hywell Machinery also have the laboratory machinery that include the lab granulator, lab powder mixer and lab drying machine.
Hywell Machinery has special kinds of dust-free solid dosage forms granulation lines and Powder mixing lines. Your process in mind innovation technology for special applications.
Hywell Machinery can improve process test service for your best equipment choice. Customize and design best equipment which satisfied with your process. Because only those who understand the process and know details can develop products that can do more than just the sum of individual components. Hywell Machinery support you in pharmaceutical, health product, food, fine chemical and feed processing through our international innovative process solutions.
Hywell customize all documentation related to the equipment, making easier the training, operation and maintenance of the equipment trough the life term even in the more exigent industries as the pharmaceutical market, we provide a complete set GMP documents including Qualifications(DQ,IQ, OQ,) , FAT, SAT, USER manual documentation. We perform the qualification executions as customer requests.
Our business sections are operating under the strict International Quality Standard of operation with control regulation certificate ISO9001 which is called the [International Quality Certifications".
Machine manufacturing is a very competitive business that demands continuing productivity improvements and cost reductions.
Hywell Machinery aiming to be the top-level pharmaceutical equipment manufacturer and supplier.
Passionate about our business, we are continually pushing the limits of our know-how to provide high-quality, innovative, and mixing, granulating, drying solutions for a host of international brands.
Welcome visit our factory at any time!
Hywell machinery Presence & Prospect
Hywell machinery company. is established as the professional manufacturer of industrial mixing, granulation, Drying equipment and system. Our state-of-the-art technology and know-how in this section is originally from China; along with the low labor cost advantage in China, Hywell machinery is born to be your partner for the cost effective solutions in powder mixing & powder granulation and drying system .
Hywell Machinery Product Range
Hywell Machinery are not only able to offer the single machine with modern appearance and advanced technique, but also to offer the full line system to save your time, which is one of our strong points. With our engineers` decades of experience in this area, Hywell machinery is capable to offer the most suitable solution for any industry that has a demand for industrial Mixing & Granulation& Drying equipment.
What makes us so successful is our focus on sustainability through superior engineering. Our units are purposely over engineered to delivery superior performance, not just now for the current application, but for future applications. We know that being flexible and adaptable is key in creating a sustainable business as is superior customer service, support, and technology.
Company Name: Changzhou Hywell Machinery Co,.Ltd
Representative: Shally
Product/Service: Drying Machine , Mixing Machine , Granulating Machine , Grinding Machine , Vibration Sieve , Coating Machine
Capital (Million US $): US1.5 million
Year Established: 2009
Total Annual Sales Volume (Million US $): US$2.5 Million - US$5 Million
Export Percentage: 81% - 90%
Total Annual Purchase Volume (Million US $): Below US$1 Million
No. of Production Lines: 3
No. of R&D Staff: 11 -20 People
No. of QC Staff: Fewer than 5 People
OEM Services Provided: yes
Factory Size (Sq.meters): 3,000-5,000 square meters
Factory Location: Jianhu Industrial Park,Wujin District
Contact Person: Mr. Jeff
Tel: 86-0519-85786231